Discover the exotic beauty of Saint Lucia
If there was ever an enchanting place created, it's the island of Saint Lucia. It's found in the fiery passions of its ancient volcano, the serene abundance of its rainforest and the rhapsodic charm of Marigot Bay. Even the twin peaks of Les Pitons, the island's iconic landmark, pair off as beautifully as two people in love. Experience the exotic allure of this island paradise with our all-inclusive vacations in Saint Lucia. Experience three magnificent adults-only resorts that feature the most alluring tropical views, over-the-water luxury, and exciting adventure tours that let you explore tropical rainforests, watch dolphins and whales swim, and more.
3 Adults-only Resorts in Saint Lucia's Best Beaches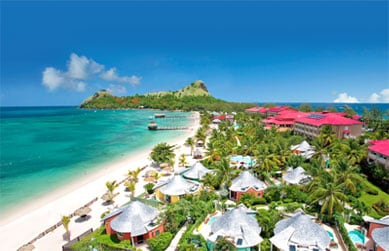 Sandals Grande St. Lucian
GRAND VIEWS ON ITS OWN PENINSULA
Perfectly situated on its very own peninsula, Sandals Grande St. Lucian is often described as the "closest vacation to a picture-perfect postcard." The resort is cradled to the west by the scenic Rodney Bay and to the east by the majestic Atlantic Ocean.
12 Unique restaurants
5 Pools and 4 whirlpools
6 Full-service bars including a British pub
Spectacular over-the-water Bungalows
Stay at 1, Play at 3 exchange privileges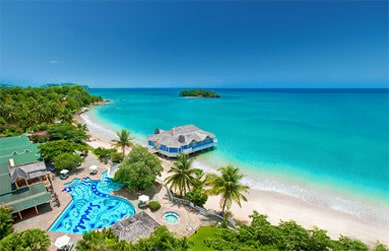 Sandals Halcyon Beach
A TRUE GARDEN OF EDEN
Sandals Halcyon Beach is a true Garden of Eden by the sea, with resort beachfront island architecture that features picturesque gingerbread-detailed cottages that are no taller than the highest palm trees, ensuring gorgeous panoramas.
6 Unique restaurants
7 Full-service bars including a British pub
Stay at 1, Play at 3 exchange privileges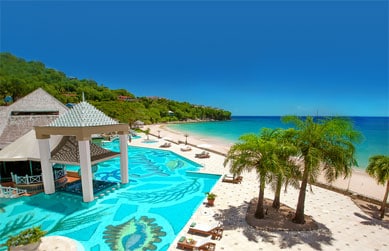 Sandals Regency La Toc
A GLAMOROUS GOLF RESORT
Featuring an exclusive-style golf course, stunning oceanfront suites and the private enclave of the Sunset Bluff Village, this resort is recognized as the most sparkling jewel in the islands.
9 Unique restaurants
3 Pools and 4 whirlpools
8 Full-service bars including a British pub
9-hole golf course on property
Stay at 1, Play at 3 exchange privileges